Fashion week definitely took a hit with all that's been going. There weren't any really packed fashion shows like usual. Yet designers still found a way to show us their vision via virtual showcases and downscaled fashion shows. Let's take a look at some of the categories that were featured in these 2021 Fashion Forecasts.
Disclaimer: The traveling 4 are participants in the Nordstrom Affiliate, Top Shop Affiliate, ASOS Affiliate, Pretty Little Thing Affiliate, as well as the Amazon Associates Program and receive a commission on all purchased items that we advertise (at no cost to you of course). Just click on the image or link in text to be taken to the site. We are truly grateful for your support which helps us keep the lights on
.
Knits
A winter classic that keeps you warm and cozy but still stylish. Knits can be anything from a hat down to shoes. Let's see what winter wear I've found to fit this category.
Andorra 3 in 1 Women Soft Knitted Hat Scarf & Gloves Winter Set sold on Amazon for $29.99
Stitch Cropped Knitted Cardigan sold by TopShop for $68.00
BP. Cable Knit Balloon Sleeve Sweater sold by Nordstrom for $27.00
Famnbro Womens Knit 2 Piece Turtleneck Sweater Dress sold on Amazon for $38.99
I love this knitted sweater dress I got at Ross especially the back detailing. The best thing about it is that it can also be worn as a jacket. Don't you just love a multi-purpose garment?
Black and White
This classic combination will never go out of style in my book. These colors not only pair well with just about every other color but also with each other. Let's see which pieces I can pull together to display this combo just right.
Blandsi Stripe Print One Shoulder Asymmetrical High Low Blouse (up to 3XL) sold on Amazon for $21.49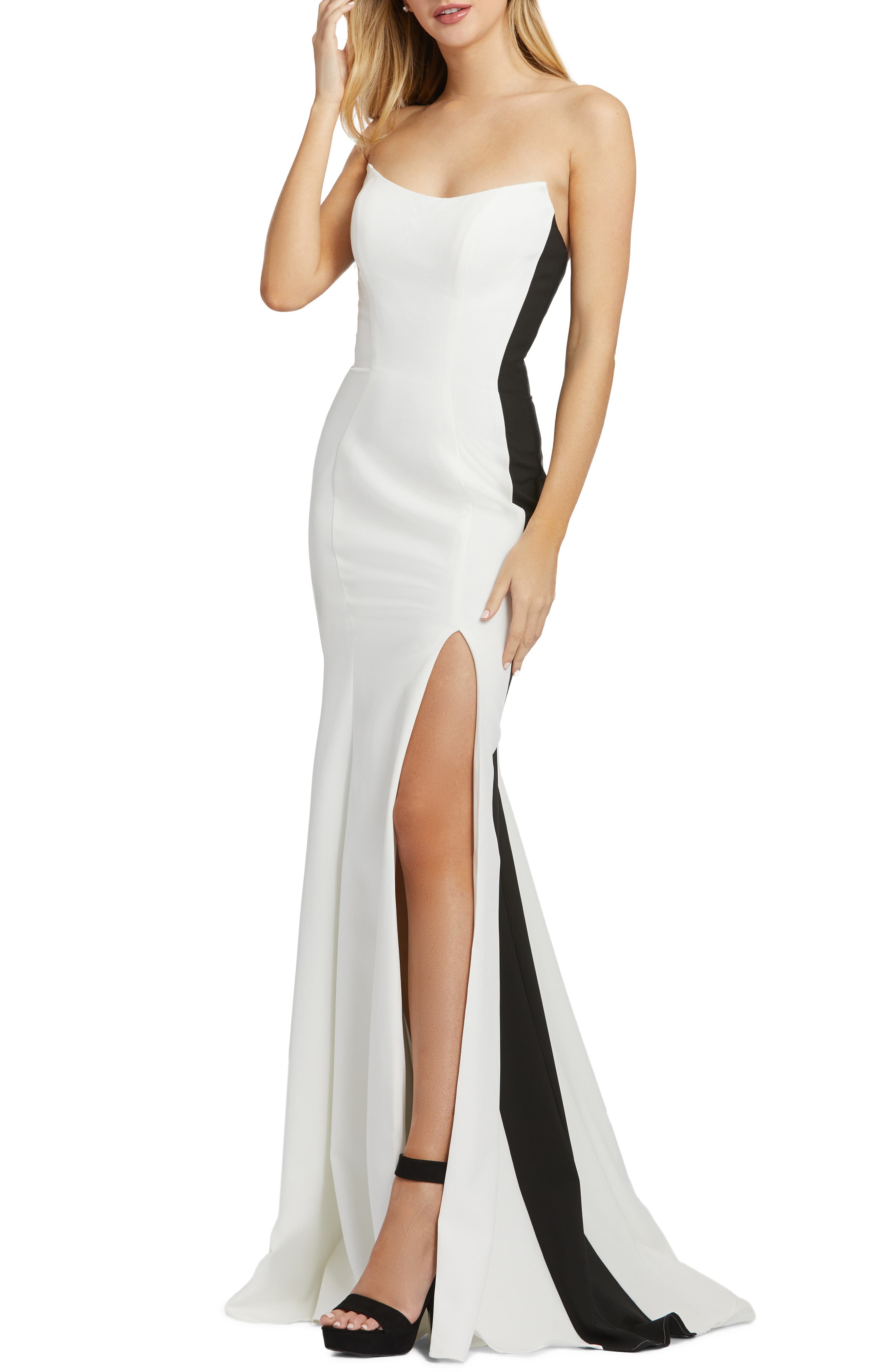 Mac Duggal Colorblock Strapless Trumpet Gown sold by Nordstrom for $338.00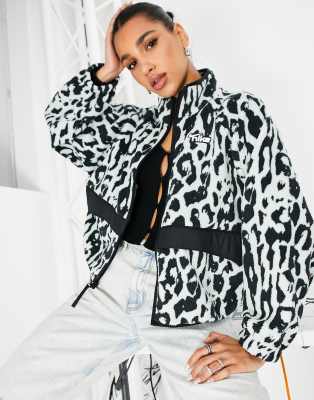 Nike sherpa animal print jacket in black/white sold by ASOS for $110.00
SweatyRocks Casual High Waist Skinny Pants sold on Amazon for $21.99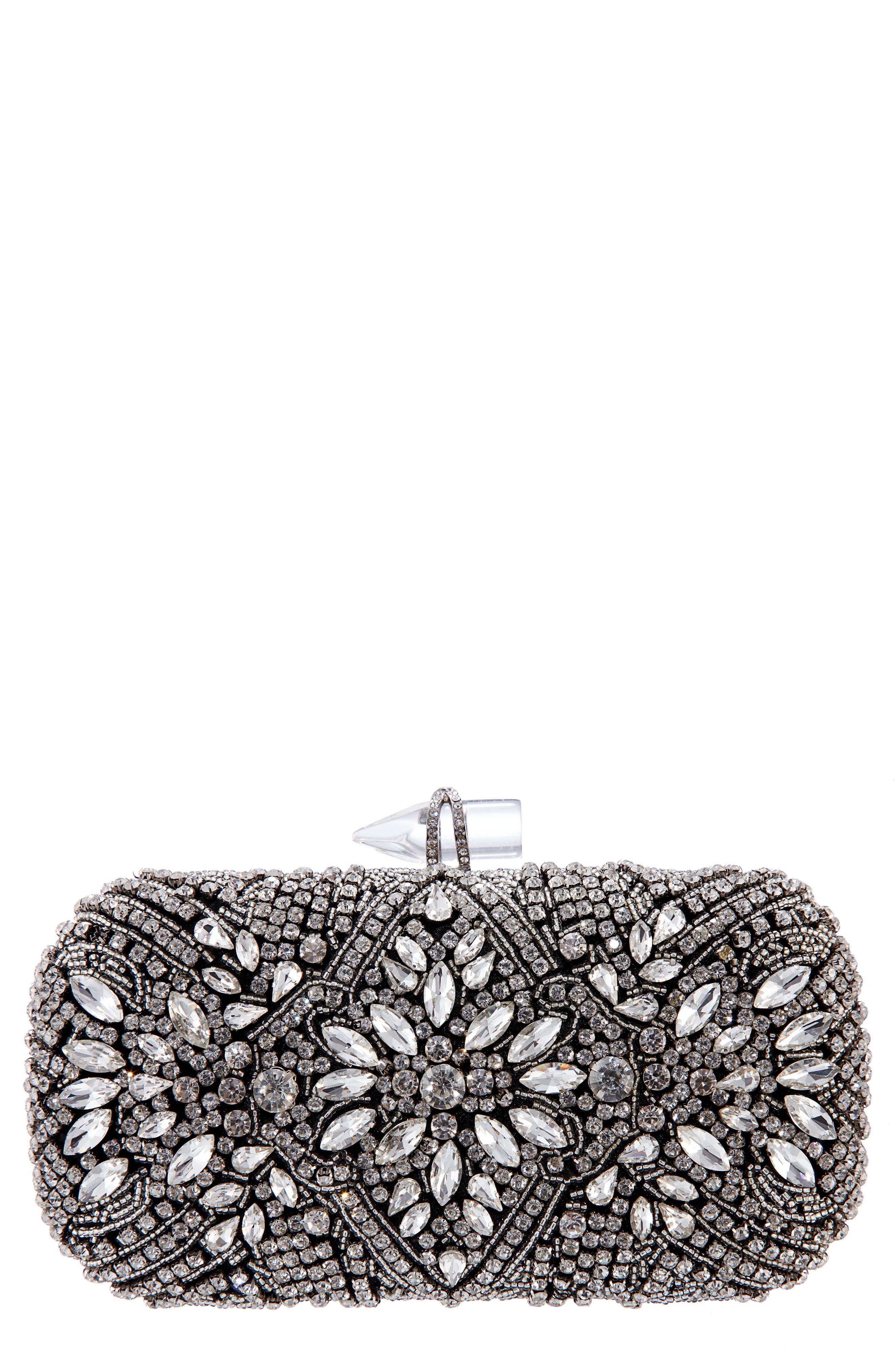 Although this is more of a black and clear combo I still think this Nina Gelsey Crystal Embellished Minaudière fits the bill. It will be a great pairing for any black and white formal wear. You can purchase this from Nordstrom for $125.00.
DeeDee and Brittany modeled this timeless color combination amazingly during our trip to Dahlonega, GA.
Statement Sleeves
From off the shoulder and cold shoulder tops to belled and ballooned sleeves we're drawing the eyes to the arms this year. Let's check 'em out.
Blansdi Sexy One Off Shoulder Ruffles Peplum Blouse sold on Amazon for $30.99
PLUS TURQUOISE SATIN PUFF SLEEVE TIE WAIST CROP TOP sold by Pretty Little Thing for $13.00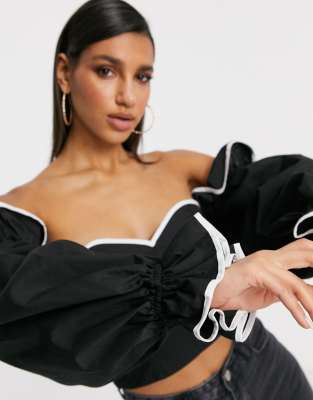 ASOS DESIGN off shoulder cotton top with volume sleeves and contrast piping sold for $56.00. (Dual trend alert- Black and White and Statement Sleeves)
This Lace Cold Shoulder blouse I got off Amazon for $19.99 is great for a mild Winter, Spring or Fall. The lace detailing is a great addition to the already standout cold shoulders.
Wide Leg Pants
Sorry skinny jeans but the baggier the better this year. Pair wide leg pants with a fitted top (tank, crop top, t-shirt or tucked in shirt). These are a great fashion choice all year 'round.
LROSEY High Waisted Wide Leg Palazzo Pants with Pockets sold on Amazon for $26.98
PLUS BLACK SEQUIN WIDE LEG PANTS sold by Pretty Little Thing for $30.00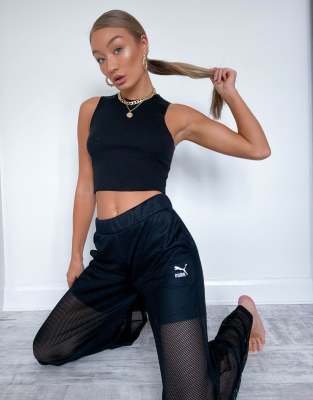 Puma high waisted wide leg mesh pants sold by ASOS for $35.35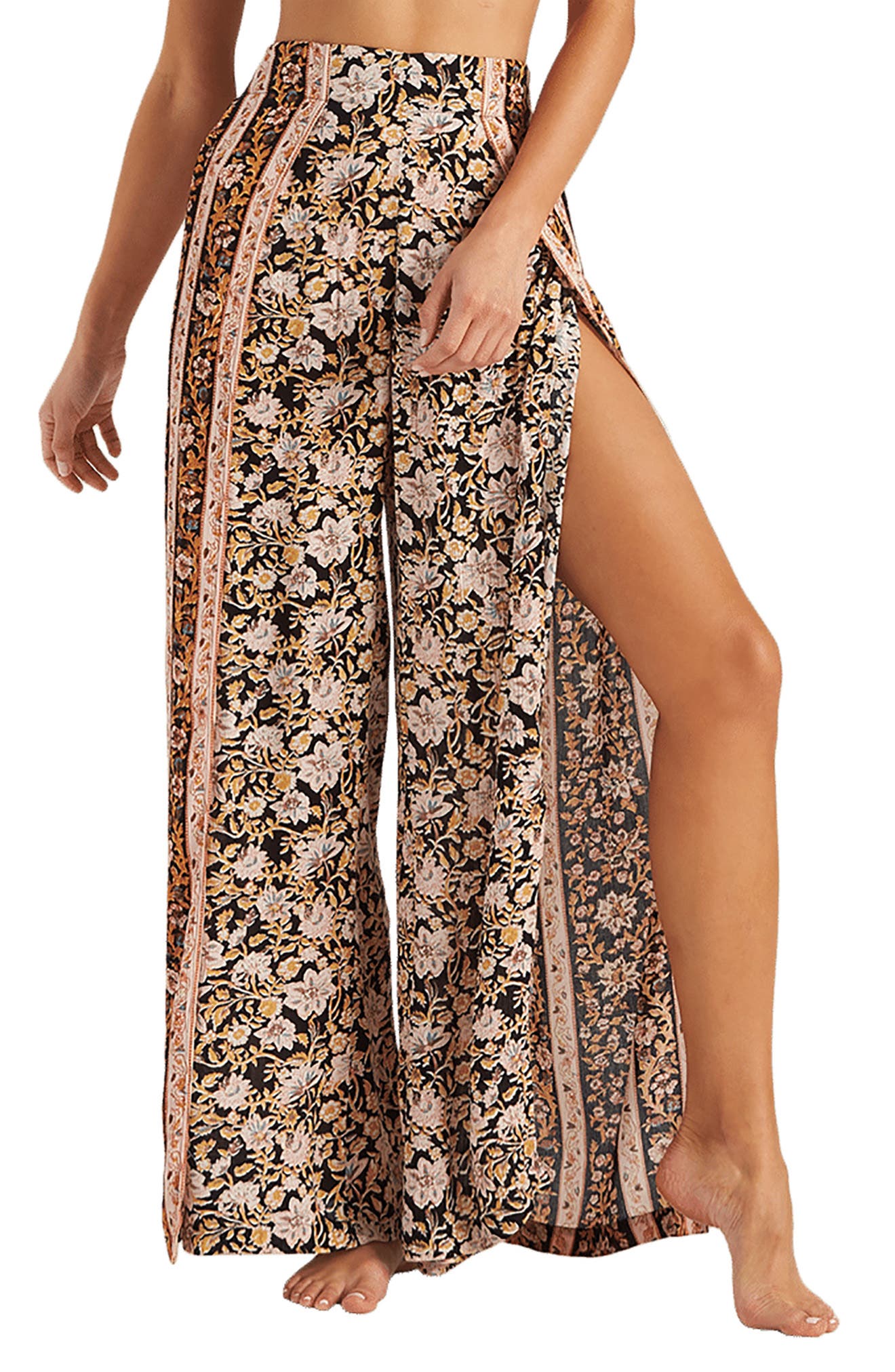 Billabong Split Spirit Floral Print Wide Leg Pants sold on Nordstrom for $33.57
I wore similar pants to those above for our Bohemian styled photoshoot at the Sunflower Farm last year.
Capes
You don't have to be a super hero to wear a cape. This is a style that has been going strong for many years now. Do I almost dare to say that it will last the test of time. Dressed up or down this style will add a bit of pizzazz to any outfit.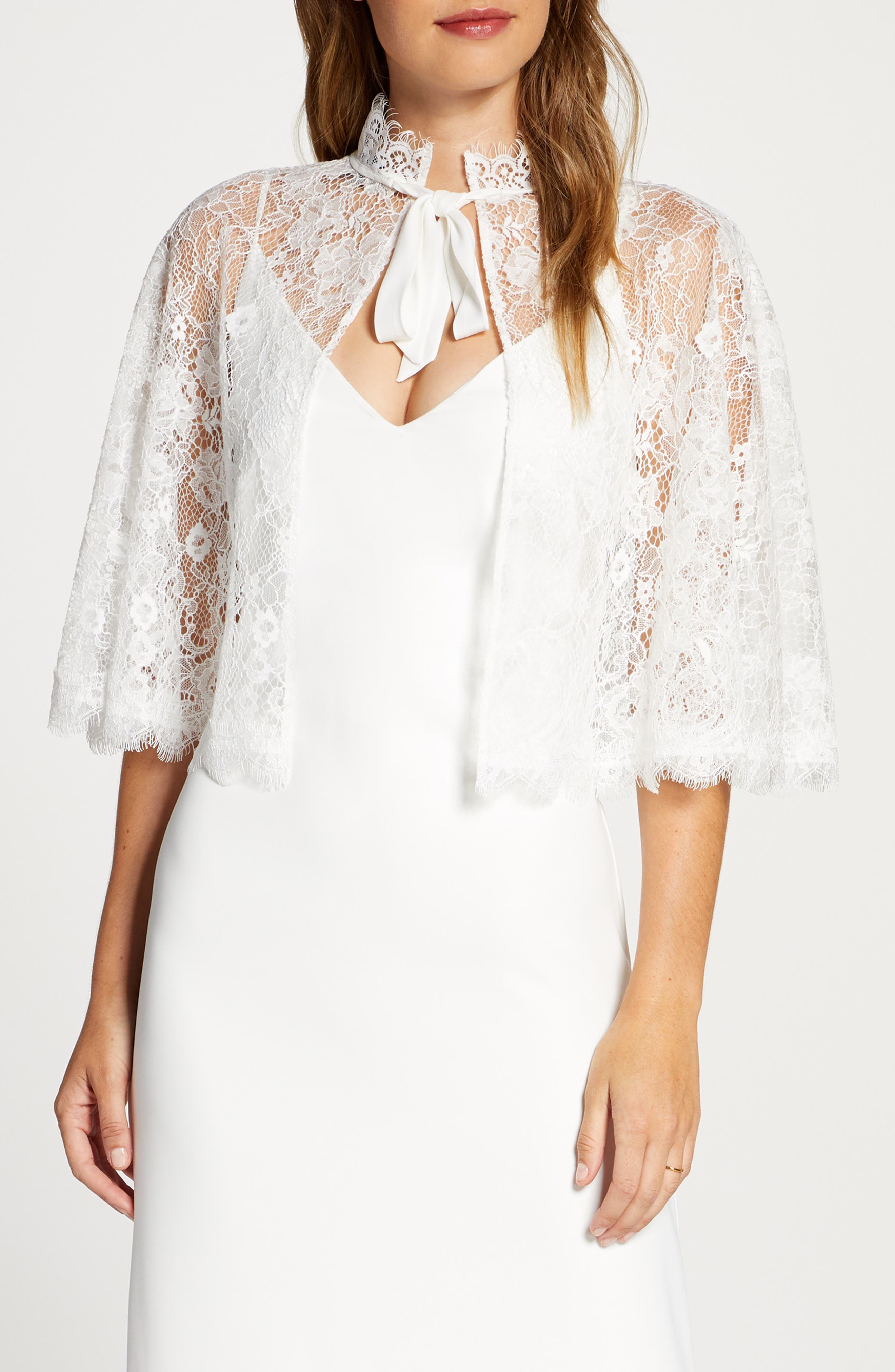 Tadashi Shoji Floral Lace Capelet sold on Nordstrom for $178.00
Jaded Rose off shoulder drama cape sleeve romper in leopard print sold by ASOS for $92.00
SheIn Cloak Sleeve Mini Cape Dress with Pocket sold on Amazon for $35.99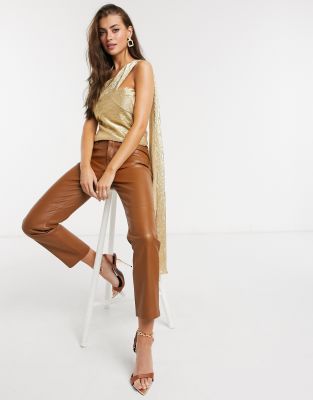 Yaura metallic one-shoulder top with cape detail in gold sold by ASOS for $36.05
Sequins
Diamonds are a girl's best friend because they are so eye catching just like sequins. Okay, well maybe not quite like sequins. But if you can't rock the bling in the form of a rock some shimmer and shine on your outfit may be a good alternative.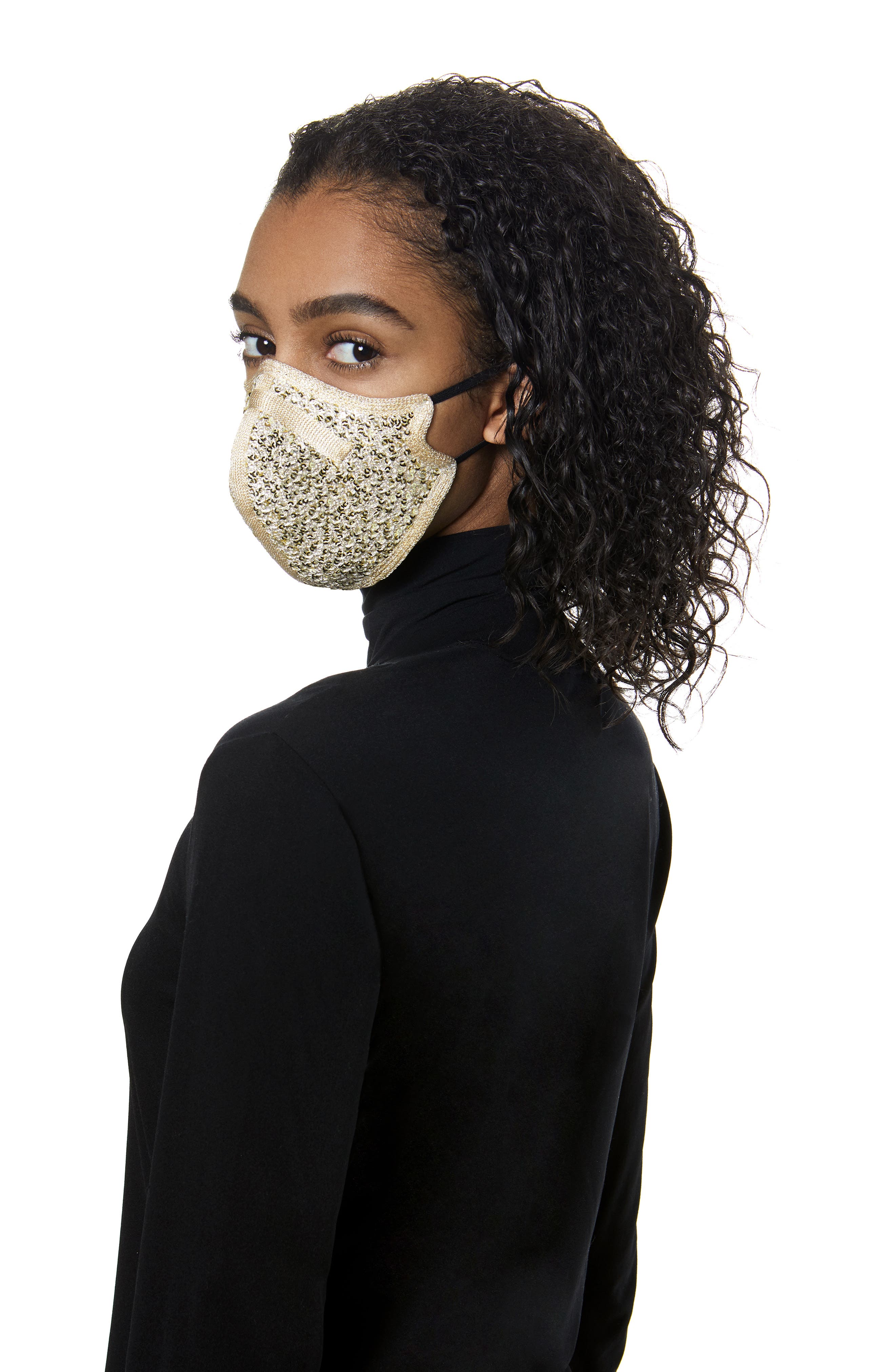 ST. JOHN COLLECTION Sequin Tweed Adult Contoured Face Mask sold by Nordstrom for $50.00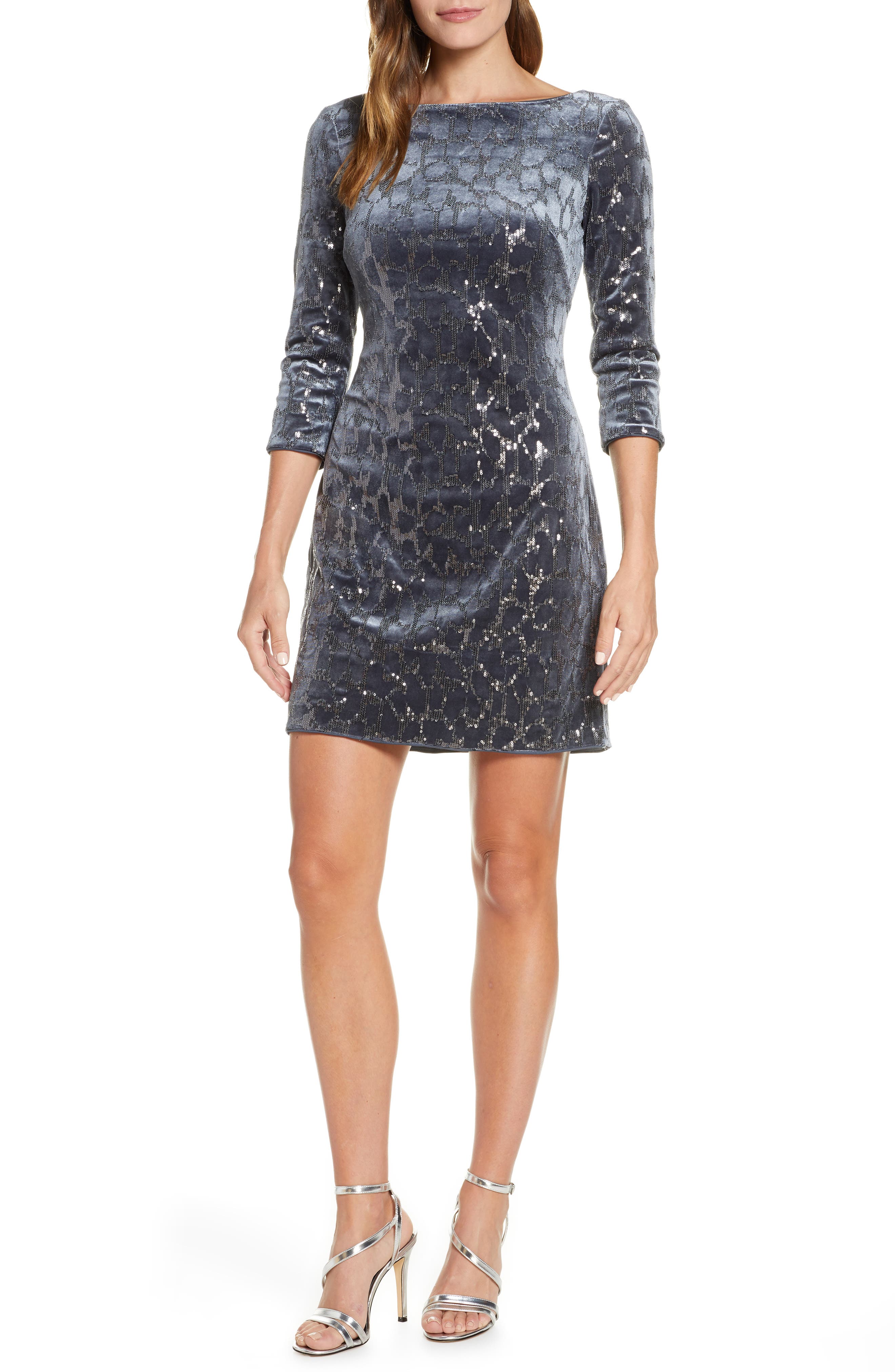 Eliza J Sequin Velvet Sheath Dress sold by Nordstrom for $88.00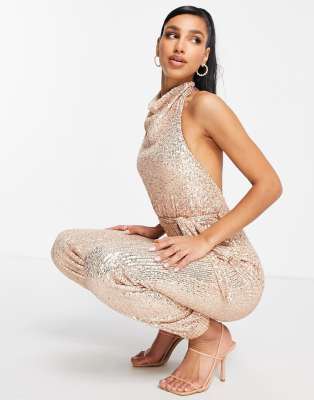 Club L London sequin high neck jumpsuit in rose gold sold by ASOS for $111.00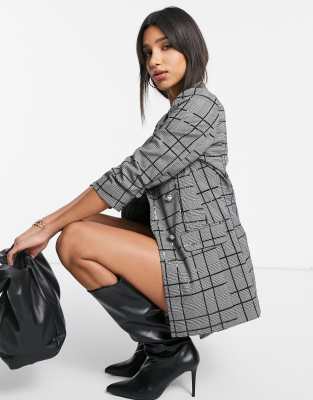 River Island sequin plaid co-ord blazer in black sold on ASOS for $113.00
This Lovezesent Sequin Tassel Sleeve Cocktail Dress I got on Amazon really amped up my New Year's look. It comes in many different colors (blue ombre, champagne, black and nude) ranging in price from $26.99 – $48.99.
Bra Tops
I'm coming out…I want the world to know…got to let it show. Are you ready for the midriff madness and the skimpy shenanigans? This spring and summer we'll definitely get our fill with bra tops being a fashion trend. These pair well with those baggy pants discussed above but can also be worn with shorts, skirts, and jeans. Another cute item to wear with this is an open blazer.
GREY ONE SHOULDER STRAPPY CROP TOP sold by Pretty Little Thing for $5.00
Mauve Leaf Lace Bralet sold by TopShop for $22.00
Amazon Brand – Mae Women's High-Neck Bralette with Cutouts sold for $15.84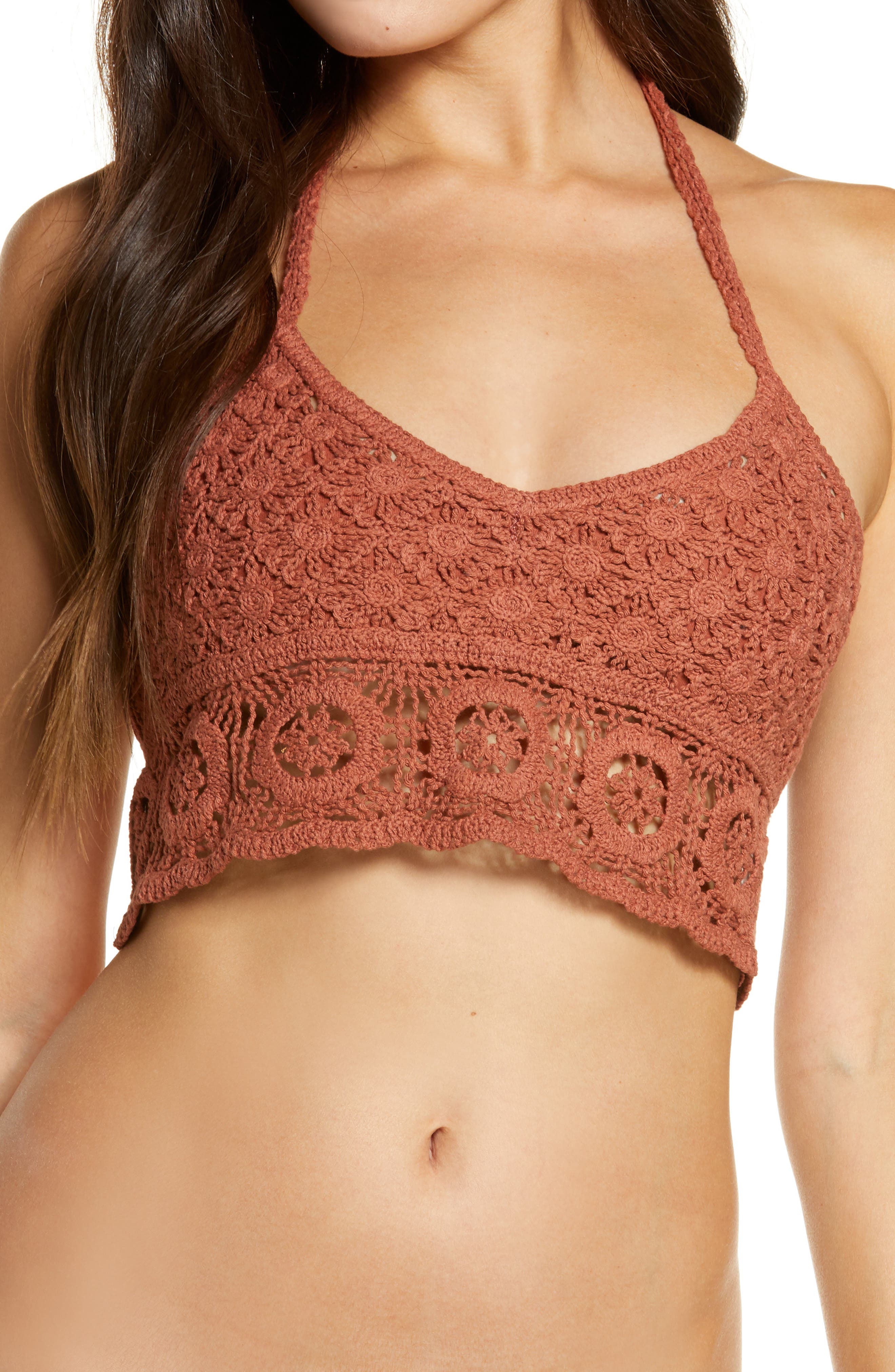 Free People Intimately FP Sydney Crochet Bralette sold by Nordstrom for $48.00
Earth Tones
These are muted colors that draw from those found in nature and usually come from the brown, green, gray and red color palettes. An outfit displaying this color scheme can be paired with other comparable earth tones or can be styled with contrasting colors to liven up the otherwise subdued look.
Koolaburra by UGG Women's victoria tall Fashion Boot sold on Amazon for $81.95
Camel Balloon Sleeve Midi Dress sold by TopShop for $75.00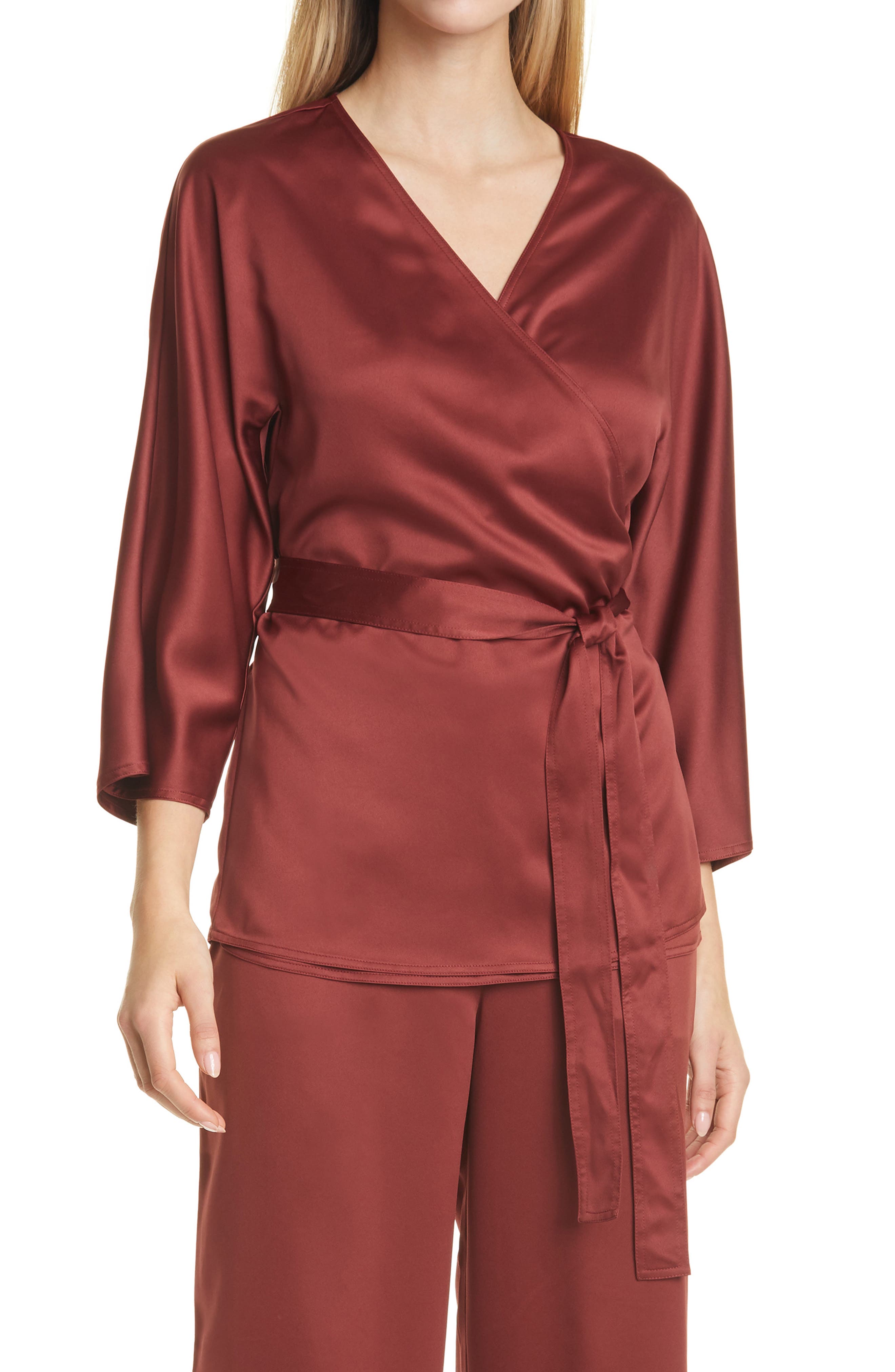 Max Mara Leisure Aeroso Satin Wrap Jacket sold by Nordstrom for $225.00
Dressystar Women's Halter Floral Lace Cocktail Dress sold on Amazon for $39.69
I wore this earth toned inspired dress on our trip to Dahlonega, GA. I matched it with similarly colored shoes to keep the earth tone theme going all the way through.
Cutouts
As we saw with the bra tops above showing off a little skin is definitely in this year. Cutouts are creative ways to give a little peak without baring too much. This look is fun, flirty and sexy. Let's check out some great example below.
SweatyRocks Women's Cutout Leggings sold on Amazon for $16.99
BEA Black Cut Out Boots sold by TopShop for $75.00
PETITE Metallic Lace Up Cut Out Long Sleeve Top sold by TopShop for $29.00
GOBLES Sexy Bodycon Cut Out Long Sleeve Dress sold on Amazon for $18.99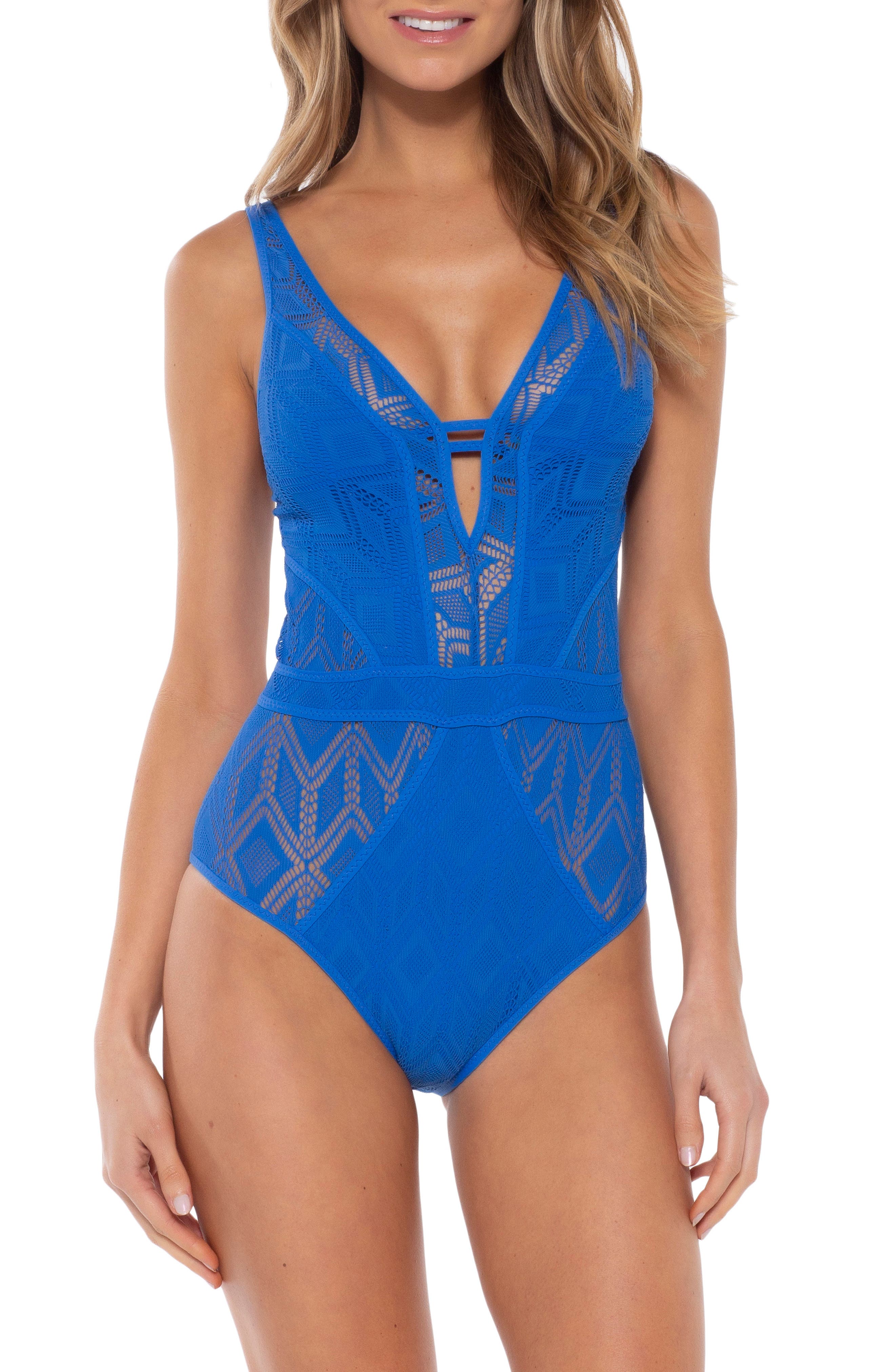 Becca Wanderlust One-Piece Swimsuit sold by Nordstrom for $118.00
Flowy Maxi Dresses
Let your style flow in floor sweeping, sheer and fluttery maxi dresses this year. Great for Spring, Summer and Fall, as well as for just about any body type. Let's check out this style below.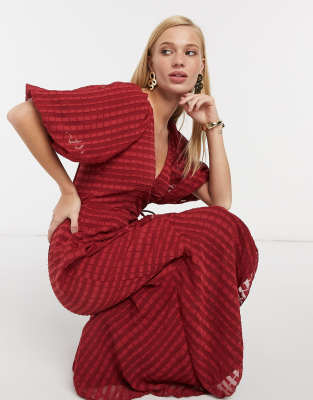 ASOS DESIGN wrap maxi dress in self stripe in oxblood sold for $60.00
ASOS DESIGN Petite wrap maxi dress with satin applique floral in Navy sold for $119.00
LKOUS Sexy Sleeveless V-Neck Split Long Maxi Dress sold on Amazon for $27.99
Nemidor Women's 3/4 Sleeve Floral Print Plus Size Maxi Dress sold on Amazon for $29.99
LALAGEN Women's Vintage Long Sleeve Maxi Dress sold on Amazon for $38.99. (Dual trend alert- Cutout and Maxi).
Corset
Cinched in and body sculping corsets graced the runway for 2021 fashion forecasts. Let's see what great pieces I've found to fit this category.
Lavish Alice Blazer Cape Sleeve Corset Cocktail Dress (plus size) sold by Nordstrom for $175.00. (Dual trend alert- Cape and Corset)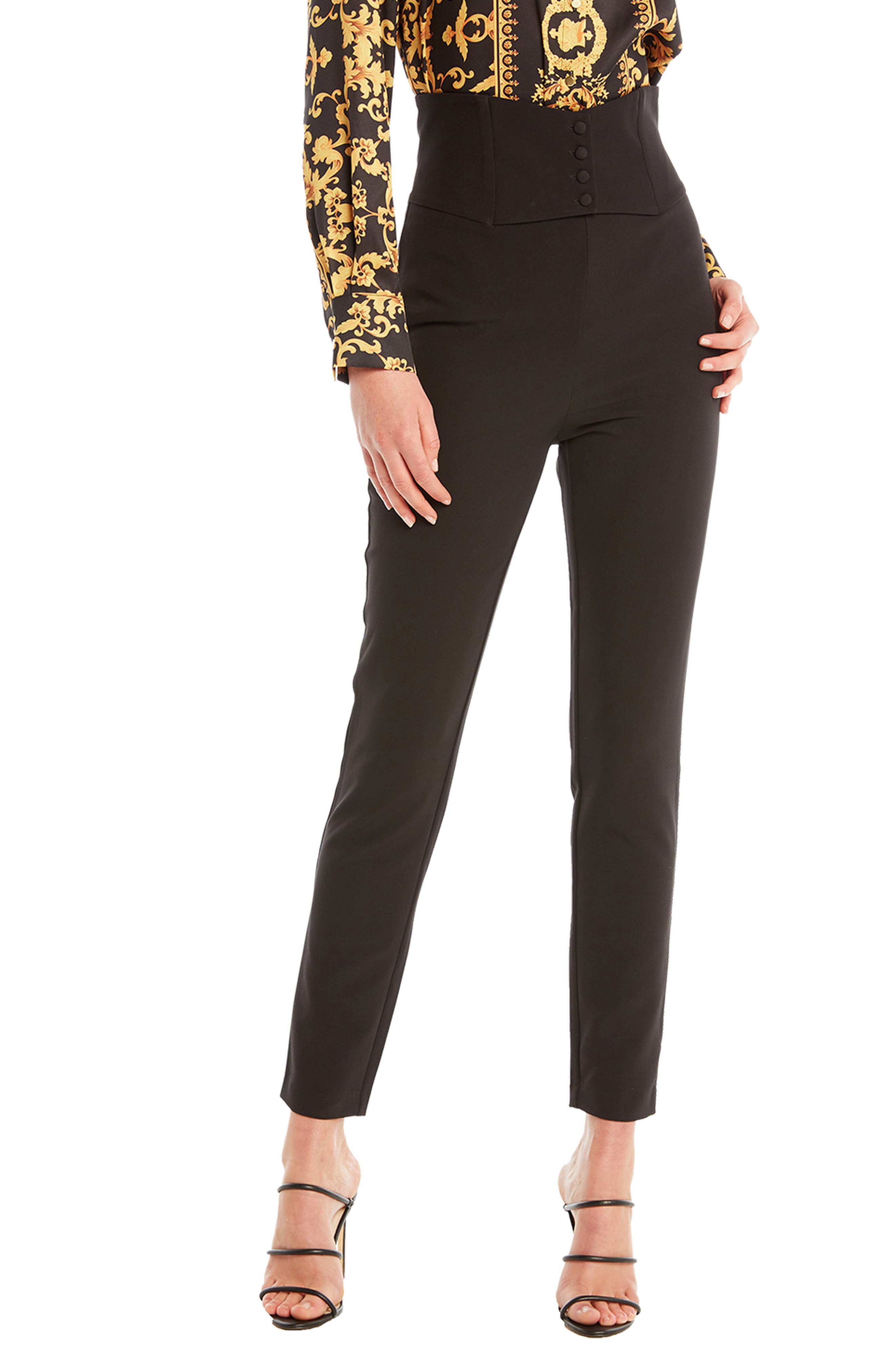 Bardot Corset Crop Pants sold by Nordstrom for $99.00
GRACE KARIN Lace-up Corset Cinch Belt (set of 2) sold on Amazon for $16.99
PETITE Blue Denim Corset Top sold by TopShop for $23.00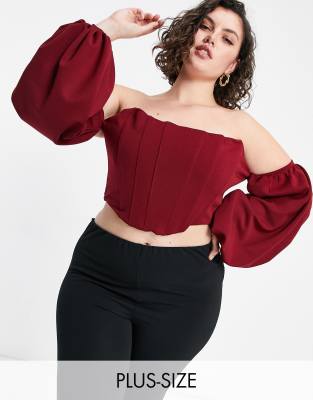 True Violet Plus corset detail corset with balloon sleeve in plum sold on ASOS for $87.00
Well that wraps up most of what's trending in 2021. I hope that you find something you like from this plethora of choices. If you do please don't hesitate to share with us a photo or a comment. Now let the styling and profiling begin.
Author: